COSTA RICAN SHELF COMPANIES
We have a permanent stock of ready made Costa Rica Shelf-Companies. These companies can be used immediately to initiate or continue business in Costa Rica or abroad. They are usually used to make urgent transactions or start doing business right way for you do not have to wait the registration period of the company in the National Registry.
When acquiring one of our Costa Rican shelf companies, either S.A. or S.R.L (L.L.C.), you have to provide a minimum of four directors (for a Sociedad Anónima: President, Secretary, Treasurer and Auditor) or one Manager (for a Responsabilidad Limitada). A controller is required for either and there are no restrictions in respect of the domicile, nationality or residence of directors. It is important to have in mind that it is not necessary to travel to Costa Rica in order to become a director or member of a Costa Rican Company.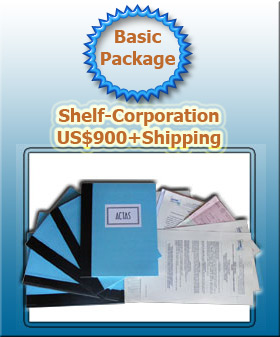 Each company purchase includes the following legal documents:
- Payment of current year of annual tax to Costa Rican Corporations.
- Articles of Incorporation.
- Certified translation to English of the Articles of Incorporation.
- Extract from the Public Registry with the registration information and the current representatives of the corporation (serves as certificate of incumbency, certificate of good standing and certificate of incorporation).
- Certified translation to English of the Extract.
- Share certificates issued per your instructions.
- First Minutes of the Board in the Legal Books.
- Resignation letters from the first shareholders.
- Corporate ID issued by the National Registry.
- Declaration of non use.
Total Cost of a Company Purchase (no extra fees will be charged except for additional services hired): USD$ 900+Shipping
Cost Details:
Fees: 750.
Costs: 150.
Shipping: 35-75.
Additional Services:
Document legalization: Costa Rica has not signed the International Agreement of Apostille, so that if you want to use the company abroad the articles of incorporation and other legal documents should be legalized by the Foreign Affairs Ministry and the Correspondent Consulate in order to produce full legal effects. USD$ 150+Shipping
Cost Details:
Fees USD$ 150
Shipping USD$ 35-75
Costa Rican Domicile / Mail Forwarding: Annual Fee USD$150.
Costa Rican Resident Agent: Annual fee USD$150.
Presentation of Tax declaration: Annual fee USD$150.
All corporations in Costa Rica must file each year to the Tributary Authority (Tributación Directa) documents regarding the incomes generated in Costa Rica or brought to the country. If there is not income generated in Costa Rica, the document must be presented as well. We send by mail the legal forms that must be signed by the representative with some months in advance, and they must be sent back signed to our team for our team to make formal presention of them to the correspondent authority.